Several years ago, I invoked the classic song from The Sound of Music, and wrote a column featuring "a few of my favorite things" for the home. Here are a few more of my favorite things.
Pendant lights.
Of course I love using pendants in kitchens over islands or dining tables, but I also love using hanging pendant lights in bedrooms and even bathrooms. They bring light where you need it, and they look beautiful too.
Painted cabinetry.
Natural wood is always beautiful, but paint opens up so many options that it's hard to resist. In one recent design project, we mixed light gray painted kitchen cabinets with a large island painted black, and the results are stunning. And in the photo shown, the turquoise-painted bath vanity gives this bathroom an unexpected and fun pop of color.
A little bit of "bling."
Almost every room can benefit from a little bit of shine and glamour. Crystal lamps, glass cabinet knobs, Mercury glass, a mirrored cabinet, shiny chrome—small doses add so much personality to a space.
Wall-mounted ledges.
These handy items have been "in" for a while, and I don't see them going away anytime soon. Use them to display family photos, rotating collections of artwork, books and accessories.
Quartz countertops.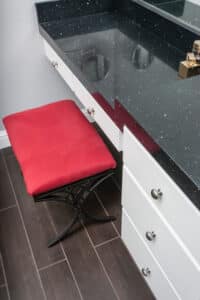 If you're debating between quartz and granite, consider the benefits of quartz: No sealing is required, it won't stain or absorb water, it is extremely durable and it comes in a world of colors and patterns.  Quartz works in all design styles from traditional to modern, and the number of options is amazing.
Fabric at the windows.
I used to be a minimalist when it came to dressing windows. Maybe it was rebellion against the heavy, old-fashioned drapes of the past. However, I've completely changed my mind on this issue. The longer I work in interior design, the more I realize how much of an impact the right fabric can have in the room.  I absolutely love how curtain panels frame a window and add softness, texture and color. A tailored valance at a kitchen window can be the perfect finishing touch. Not every room needs fabric at the windows, especially if the design aesthetic is very modern and streamlined. But I would say most rooms don't look quite "finished" until the windows are properly dressed.
Contrasting textures and materials.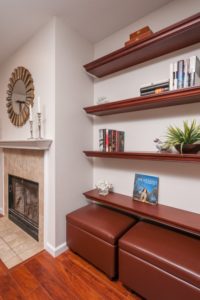 For example, if you have wood coffee table, pair it with glass end tables. If you have a leather sofa, pair it with fabric upholstered chairs. Mix metals, such as a chrome and glass table with a gold and silver mirror. Mix a shaggy area rug with a sleek and smooth leather chair. Mixing textures is the key to an interesting room.  And please remember that not all woods have to be the same! Variety is the spice of life.