Say goodbye to last year's Emerald green, and hello to Radiant Orchid, Pantone's color of the year for 2014.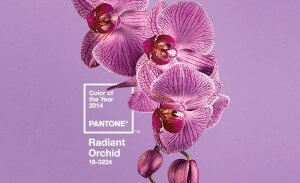 According to the Pantone Institute, Radiant Orchid is "an enchanting harmony of fuchsia, purple and pink undertones" that "inspires confidence and emanates great joy, love and health." As you spend time shopping this year, you will see clothing, jewelry and home décor in this color.
Purple is a great color for interior design, because it is a combination of red and blue, and can work in both warm and cool interiors. It can be elegant and rich, or playful and whimsical, depending on the furnishings and colors you use with it. Try pairing Orchid with greens ranging from olive to teal to Hunter, or use Orchid to perk up neutrals like gray, beige and taupe. Orchid will always look good with white and silver, and will also looks surprisingly with cream and brushed gold.  Orchid will also pair well with chocolate brown, charcoal gray, and other shades of purples like fuchsia and magenta.
Unless you are truly a lover of purple, using Orchid in small doses will probably work better for you. If you like to change your décor frequently, keep your large pieces (like carpeting, sofas and chairs) neutral, then play with accessories as the mood strikes you. Here are some photos of a few Orchid-colored items I found online that you might like to incorporate into your décor. These are all available through www.lampsplus.com.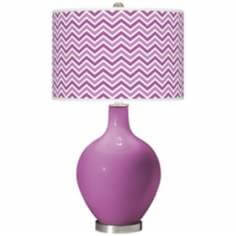 How about adding an orchidcolored lamp to a guest room, home office or an entry table? You can use a patterned shade like this one, or keep it simple with a white shade.
I love this artwork. It is a fun way to add pattern to a space and you can see how beautifully the orchid color works with the silver on the picture frames. Wouldn't these look pretty in a bedroom or a bathroom?
This cute ottoman shows how nice Orchid looks when combined with greens like teal and olive. Picture it in front of a plain beige sofa or chair. It will instantly liven up your room.
I know this mirror is darker than Orchid, but what a fun look for an entry, bathroom vanity, or above a console or dresser. Perhaps you already have a mirror or a picture frame you can paint yourself.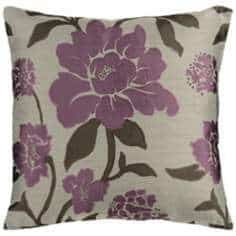 An easy way to change the look of a room is with new throw pillows.  These would look great on a green, cream or beige sofa, or perhaps on your bed with a new cream-colored comforter. And while you're at it, how about painting an Orchid accent wall behind your bed? The possibilities are endless!
Anna Jacoby is a local Certified Interior Designer.
Contact her at info@annajacobyinteriors.com or 510-490-0379.