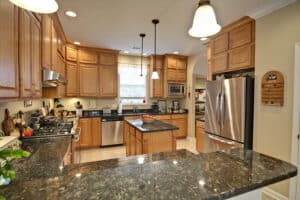 I recently attended the annual Kitchen and Bath Industry Show in Las Vegas, where my colleagues and I got to see a wide variety of beautiful and innovative products for remodeling kitchens and baths. It was like Disneyland for designers–tiles, cabinetry, countertops, cabinet hardware, and fancy gadgets as far as the eye could see!
We saw cabinetry made from gorgeous, rich-looking exotic woods and very unique finishes (picture a bleached finish resembling driftwood), quartz slabs made to look like marble and granite, creative storage solutions for kitchen cabinets, and much more.
During a seminar on kitchen and bath trends for 2014, we learned the following:
Seventy-five percent of you prefer neutral kitchens, especially those of you over the age of 44. It is true that neutral kitchens tend to have more universal appeal (which is important if you plan to sell in the next few years) and tend to be more timeless than trendy. Neutral kitchens can be traditional or modern, and can look elegant or more rustic and casual, depending on the materials chosen. It's never wrong to design a neutral kitchen, but don't default to neutral because you are afraid of color!
Twenty-five percent of you prefer bold colors in the kitchen, and for those of you under the age of 44, the percentage is even higher. Bold colors can appear in wall colors, backsplash tile, and upholstery of course, but also in unexpected places like appliances and cabinetry. For example, picture a kitchen with a stainless steel refrigerator and dishwasher, and an oven in an eye-catching Cherry Red or Cobalt Blue. Mixing in a colorful appliance, or painting the island in a bold color can add pizzazz to the kitchen.
Eighty-six percent of you prefer granite or quartz for your countertops. With so many colors and patterns to choose from, it is no wonder. It appears that other materials like laminate and Corian are not as popular anymore, however, for tighter
budgets, I would definitely recommend looking at laminate. There are lots of greatlooking choices out there and are quite durable, even for high-use kitchens.
I was happy to learn that 50% prefer tile backsplashes instead of using the same granite or quartz on the backsplash. My clients will tell you that nine times out of ten I recommend tile for the backsplash. It allows us to be much more creative and give the kitchen a more personal touch.
Most of you undertaking bath remodels desire spa-like bathrooms that feature warm, neutral colors and natural materials. In one recent remodel, the shower pan is a bed of natural river rocks, and the shower wall features a wide band of glass and stone mosaic tile. Beautiful.
Many of you are adding windows to the bathroom to bring in natural light. I like to enhance the lighting in the bath as well. For example, we might install vanity lights on a dimmer switch, an LED light in the shower, and a pendant light hanging above the spa tub.
Forty percent of you prefer a large shower rather a tub, and the number is even higher for those of you over 55. In those large showers, remodelers under the age of 44 are choosing large rain head-type showerheads and body jets; those over 44 are opting for handheld showerheads. Some even want both types—a large rain head as well as the handheld showerhead. Why not have maximum flexibility?
If a new kitchen or bath is in your future this year, know that you have myriad choices for fixtures and materials. Take your time and think about the type of room you desire, in terms of both functionality and aesthetics. If you can imagine it, it probably exists!
Anna Jacoby is a Certified Interior Designer. Contact her at 510-490-0379 or info@annajacobyinteriors.com or visit her website at www.annajacobyinteriors.com