I got to know my client a few years ago while we worked on her kitchen remodel, and I was delighted when she asked me back to work on her guest bath. She knew what she wanted— a free-standing bath tub and vintage charm— and she asked me to put it all together for her.
While her original bath was certainly usable, it was old and tired, and there was nothing charming about it. My client did not care for the tile countertop, and the room lacked precious storage. So here's what we did:
New Bathtub
We couldn't add any square-footage to the bathroom, so I found a 56" wide free-standing tub and tub filler that just fit into the space. (My client affectionately calls it her "tea cup.") To protect the walls from water, we used ceramic tile bead board wainscoting on all four walls. Not only is it functional in terms of water protection, but it is also beautiful and adds a lot of character to the space. The old-fashioned tub filler and hand shower complete the look.
Improved Storage
The old vanity cabinet did not provide adequate storage for my client. To replace it, I designed a custom vanity with a tilt-out beneath the sink and three drawers. I also selected a large wall cabinet with a combination of closed storage and open shelving, which can hold lots of toiletries and also provide display space.
New Lighting
The fluorescent lighting in the old bath was unsightly and inadequate. We added an LED vanity light above the sink, cut into a large mirror, to increase the light throughout the space.
Color Scheme
We kept the colors light, to visually maximize the space. The crisp white of the cabinetry, bath tub, toilet and wall tile is softened by the light blue-gray wall color and the gray and white mosaic floor tile. And the polished chrome fixtures are like jewelry in the room. The blue and cream toile fabric on the window treatment adds another element of softness and charm. The countertop continues the color scheme; it is a Cambria quartz counter named Torquay— with it, you get the look of marble without the maintenance.
The new bath is just what my client envisioned— modern amenities with a lovely vintage feel. She loves it and says she gets many compliments about the newly improved bath— that's music to my ears.
Before Photos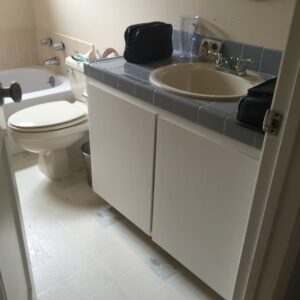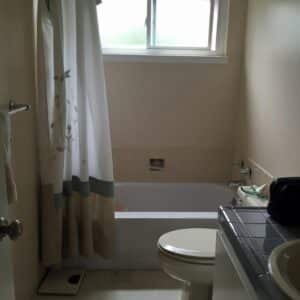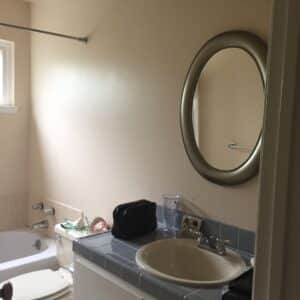 After Photos