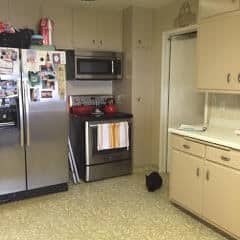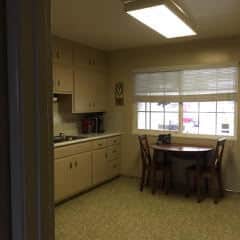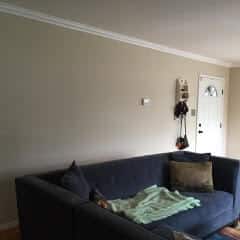 Before (scroll down for after pictures)
This kitchen transformation is striking. What once was a dark and isolated space is now an open, light-filled, beautiful great room. The first item on their wish list was removing the wall separating the kitchen from the living room. This young couple wanted to be able to entertain friends and family, and be part of the festivities, rather than be relegated to the kitchen. Fortunately, we were able to do that for them, and the result is a large, open-concept great room, where everyone can be together.
Second on their wish list was enhanced functionality, in terms of increased storage space and counter space. To achieve this, I recommended changing the locations of the sink and cooktop. The large farmhouse sink is now under the front window (the new window stayed the same width as the old one, but became shorter to accommodate the wall of cabinetry and backsplash). By moving the cooktop to the old sink location we gained several feet of counter space on both sides, and we also gained a second oven, in place of the old one-piece range.
The island provides even more functionality. Notice the microwave drawer in the island— this frees up space on the counters, and still keeps it in a convenient location near the cooking area and the breakfast bar. The new island is great for serving food and drinks when friends come over, and, on a day-to-day basis, provides a lovely spot for drinking coffee and watching the birds out the front window.
Probably the biggest benefit in the new kitchen is the increased amount of storage space. Between the Lazy Susan in the corner, and the pull-out cabinet for utensils near the cooktop, large drawers for pots and pans under the cooktop, the large upper cabinets flanking the sink, the pantry cabinet with adjustable pull-out shelves by the fridge, and the extra space in the island, my clients have ample space for everything. I think my client said it best when she texted me while she was putting away all of her things: "Holy potatoes we have a TON of storage in this kitchen!!!!!"
To unify the living room and new kitchen, we extended the wood flooring throughout the entire space, and used the same paint colors in both rooms. The teal and yellow accent colors add a welcome pop of brightness to the calming white and gray color scheme. I was very happy working on this project, and am thrilled with the results. The new space is very warm, welcoming and fun, just like the clients.