At the end of a busy day, wouldn't it be nice to retreat to a beautiful and tranquil bedroom? I recently completed several bedroom design projects, incorporating some tried and true tips for creating a lovely and peaceful space. I'd like to share them with you here.
Clear the clutter
This is not always easy, but it is truly one of the best things you can do for your bedroom. It's very difficult to relax amidst a lot of clutter. If you're the parent of young kids, try your hardest to keep your bedroom a toy-free zone. You will thank yourself for it. Clear the top of the dresser of extraneous items; keep just a few decorative items on top— perhaps a jewelry box, a couple of photos, a lamp, or a vase of flowers. At my own house, I'm not going to lie to you and tell you my bedroom is pristine and perfect— sometimes there are clothes on the floor, and sometimes I don't make my bed, but every few days I pick everything up, put everything away and start over with a clean slate. It always makes me feel better!
Remove work-related items
Years ago, before I had an office, I set up a small desk and my computer in a corner of my bedroom. What a mistake! Seeing that computer every night reminded me of all the things still on my to-do list, and it really kept me from relaxing and falling asleep. It was a short-lived experiment, as I pretty quickly realized that all those things had to go. I strongly recommend keeping computers, files, technical books, and anything else related to work out of the bedroom!
Include decorative items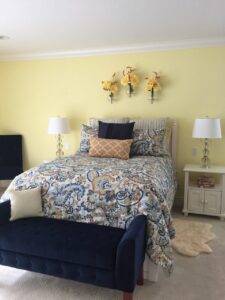 Sometimes bedrooms are an afterthought, and people don't think to actually decorate it. Pretty linens, accent pillows, a cozy throw blanket at the foot of the bed— your bedroom should not only be functional, but also beautiful. And do go ahead and hang some decorative artwork. When you wake up in the morning, make sure what you look at is pleasing to the eye.
Use restful colors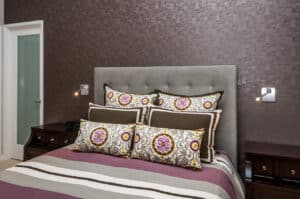 My go-to colors for bedrooms are cool colors like blues and greens, mixed with neutrals like taupes and grays. Accent colors are fun to incorporate in smaller doses, such as in artwork or fabrics. In the world of color psychology, cool colors, even dark and bold ones, exude feelings of tranquility. That said, if you prefer warm colors like yellows, peaches and pinks, please do so— it's more important for a room to make you happy, than to abide by the "rules." But if you're planning to redecorate and need a color, you won't go wrong by looking at soft blues, greens and cool neutrals.
Address the lighting
There are so many options! Add general light as well as beauty, with an overhead decorative chandelier, If you like to read in bed, consider hanging pendants, or wall-mounted swing-arm lamps. If you prefer bedside lamps, make sure they are tall enough to read by. In one project, I used lamps with built-in USB outlets for charging phones. A great idea!
The important thing is to create a personal space where you can relax, recharge and get ready for the demands that await you tomorrow.