Looking back on the design projects I completed in 2016 gives me some insight into what clients will be asking for in 2017. Here are some of the most common requests from last year that I see continuing this year as well. As you plan your own remodeling and redecorating projects, keep these in mind.
Aging in Place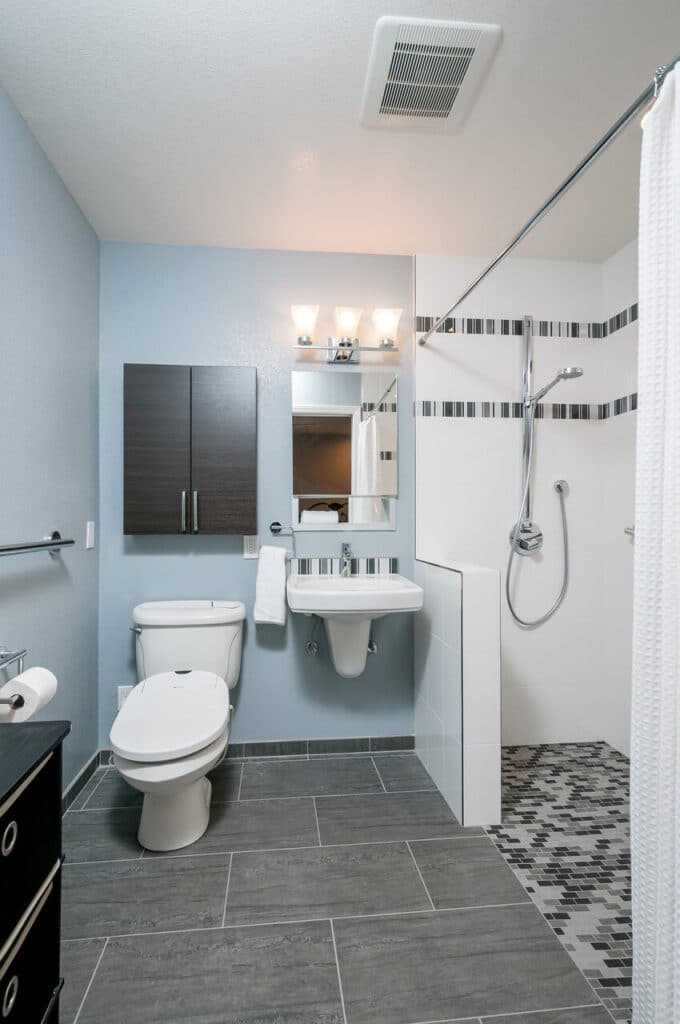 Just like in 2015, many of my design projects involved making changes so that homeowners could remain in their homes as they aged. Most clients asked for grab bars in the bathrooms, walk-in showers with hand-held shower heads instead of tubs, and ADA height toilets. A few asked for wheelchair-accessible sinks and showers. Other improvements included widening doorways to better accommodate walkers and wheelchairs, motorized window coverings operated by remote control, and kitchen appliances located at more ergonomic heights. In a couple of homes, we eliminated the step-down living room by raising the floor to match the height of the main floor. This is a great improvement for people with mobility issues, as steps and level changes can easily become safety hazards. If your goal is to stay in your house as long as possible, consider making some of these changes.
Lighter wall colors
Since I've been in business now for over 16 years, I have been hearing from past clients ready to update the paint colors we selected way back in the early 2000s. By this time, rooms need paint again, and clients are ready to make changes to their color scheme. Of course, every client and every house is different, but in general I can say there are three major trends in wall colors: 1) People are preferring lighter colors overall; 2) people are preferring one or two colors throughout the house, rather than lots of different colors, and 3) people are preferring cooler tones over warm tones. This means I'm specifying lots of off-whites and light beiges, very light blues and greens, and all varieties of gray tones.
Hardwood Floors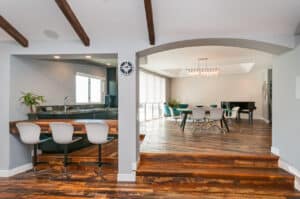 Hardwood floors are hugely popular these days. In many homes, clients have opted to replace all of their carpeting with hardwood. This could be for a variety of reasons. Some have allergies that are exacerbated by carpeting, some prefer the easy cleaning of wood over carpeting, especially if they have pets and kids, and some simply prefer the richness of wood. There are more choices in wood now than I have ever seen! New trends include wide planks, rustic finishes, and gray tones.
And I must mention other wood-like products, as this is also a huge trend in interior design.
Laminate flooring: you will not believe the options available in laminate flooring—the laminates are amazing today, in terms of color, texture, and variety. The quality is fabulous and you just can't beat it for durability and affordability.
Luxury Vinyl Tile: this is a relatively new product category that has grown by leaps and bounds. For people who want a more water-resistant surface, especially in a kitchen or bathroom, this product is fantastic. And it comes in a huge variety of wood looks as well as tile. It's really beautiful and durable.
Wood-look tile: this is one of my favorite products to use on bathroom floors. Water-resistant, durable and great-looking, there is a look for all design styles, from refined to rustic.
I expect these trends to continue through 2017 and beyond, and I look forward to seeing what else might be coming down the pike.