If you're embarking on a kitchen or bath remodel, one of your most important decisions is the countertop. Which materials are available and what are the pros and cons of each? Let me give you an overview of your choices, and my take on each.
Granite: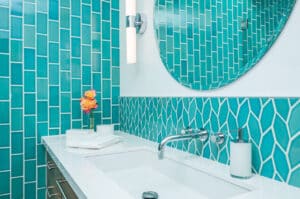 I get asked frequently if granite is still "in." It's true that many of my clients are preferring Quartz over granite, but many still prefer the natural beauty and uniqueness of granite. I don't think granite will be going "out" anytime soon, although I think many people will be looking at more unique colors and patterns going forward. There are some granite patterns that are more ubiquitous out there— those are the ones that may end up looking dated in several years.
Pros: With granite, you can get an enormous "wow" factor— brilliant color, amazing pattern, and a true one-of-a kind kitchen or bath. Granite is extremely durable, and is a great choice for busy kitchens, as it stands up to knife nicks and high heat quite well.
Cons: Because it is a natural stone, it is porous, and can possibly stain, especially the lighter colors. Take care to wipe up spills right away, and plan to seal your granite every few years to protect it. If you're planning on putting new granite on top of your existing kitchen cabinets, make sure they are sturdy enough to support the weight of the granite slab— your contractor should look at your cabinets and determine whether extra support is needed.
Marble:
Marble is stunningly beautiful and elegant, and is especially lovely in traditional kitchens.
Pros: It is the preferred material for pastry and baking because it stays cool. If you are an avid baker, you might want to create a baking station in your kitchen and use marble for that countertop.
Cons: It is much softer than granite, and can very easily stain, even if you seal it regularly. It is a bit harder to maintain, which is why most people tend not to use it in their whole kitchen. You might see marble used on an island, or a bar, or on the backsplash as an accent.
Engineered Quartz:

There are many brands of man-made quartz materials that you may have heard of. Silestone, Caesarstone and Cambria are among the most well-known. Quartz is surging in popularity, due to it's durability and it's vast array of colors, and now patterns too. If you tend to prefer solid colors over patterns, or want a very modern look, then quartz is a great choice. Quartz is also now available in patterns that resemble granite and marble, so if you like the look of natural stone, but prefer a lower-maintenance product, definitely look at those options.
Pros: It's available in myriad colors, including the ever-popular neutrals, but also vibrant colors like orange, fire engine red, cobalt blue and lime green. Quartz is non-porous, making it very stain resistant. It is durable, and holds up well in busy kitchens.
Cons: Because of the resins used in the manufacture of quartz, it can possibly scorch if very hot pans are placed directly on it. Make sure to always use trivets to protect the surface.
Other choices:
Tile:
Not too many people are choosing tile for their counters these days, although if you have a historic home that you are refurbishing, tile may be the best choice for aesthetics and authenticity. Most people don't care for the grout, as it can be notoriously hard to clean. I love using tile on backsplashes and in showers or on the floors, but not on counters.
Laminate:
If you're on a tight budget, laminate is a great option. It is very affordable, and comes in a host of colors and patterns. New laminates now can even look like stainless steel, or bamboo, or wood. It is easy to clean and maintain. But it can scratch or burn if you're not careful. I like to use laminates on desktops. In my own home office I have a blue laminate countertop that is now 11 years old and still in perfect condition.
There is no wrong choice for your kitchen or bath— but one product may suit your needs, lifestyle, taste and budget better than another.