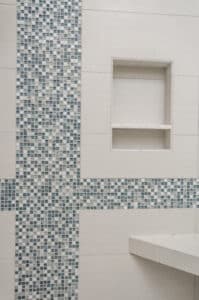 Glass tile provides amazing color and pattern, and is a gorgeous accent in your shower or at your vanity area. Borders, stripes, entire walls— your creativity is your only limit.
There are considerations to using glass tile in a bathroom, so let's discuss some of those.
Cleaning and Maintenance: Many clients ask me about this issue. Because of the smooth surface of glass, it is actually relatively low maintenance. All you really need is a little glass cleaner and a cloth. The larger the tiles, the easier they are to keep clean, although those small mosaics sure are beautiful! The glass itself is quite easy to keep clean, and because glass is non-porous, it is naturally mildew resistant. But mosaic tile means more grout, so more effort will be required to keep the grout clean. Make sure the grout is sealed properly after it is installed, and reapply the sealer every year or two for best results. The best thing to do is to start the habit of using a squeegee in the shower. After each shower, use the squeegee to wipe away the water from the tiles. It takes a few extra minutes, but it is really worth it and will help you avoid having to deep clean the grout. At my own house, my husband and I squeegee daily, and our 15 year old bathroom tile still looks like new.
Glass tile can scratch, so make sure to use a non-abrasive cleaner and a soft cloth.
If cleaning and easy maintenance is your main concern, then you'll be better off with large tiles instead of small mosaics.
Cost: Glass tile is definitely more expensive than other types of tile such as porcelain or ceramic. But the good news is that you don't necessarily need to use a lot of it to make a beautiful design statement. One simple border in the shower, for example, can really dress up plain tile. You can offset the cost of the glass tile by selecting more moderately priced tiles for the rest of the shower walls and floor.
Versatility: Glass tiles can be used almost everywhere with great results. If you like curvy lines, then small mosaics are for you. They can be cut to create wavy lines, or cover the front of a curved shower bench seat. Straight lines are always easier for installers, however, so you might consider vertical stripes, or multiple horizontal borders instead.
Beware of using glass tile on the floor; some glass tiles can be used on a shower pan or on the floor, but others cannot. Some glass is not strong enough to withstand people walking or standing on it. Make sure to ask at the tile store if what you selected can be used for the application you have in mind.
Design ideas: These photos should give you some creative inspiration of how you might use glass in your bath. Think about using more than one horizontal stripe, or one wide vertical stripe. Cover the face of your shower bench seat or use it inside of a recessed niche. You could also use glass on your backsplash, either in the 4″ or 6″ size, or on the entire wall behind the vanity. If your budget allows, using glass on one or more entire walls of the shower is a stunning look. With so many colors, patterns and sizes of glass tile available, your options are limitless.