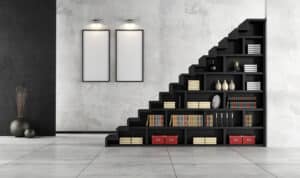 Take a good look at that bookcase in your living room. How are the items arranged on the shelves? Does the bookcase look attractive or does it need help?
One of the most common mistakes people make is crowding too many books and knickknacks on the shelves. Your living room can look instantly cluttered and unattractive if you let these shelves get out of control. Resist the urge to display any of the following items on your nice living room bookshelves: telephone books, photo albums (framed photos are great, but albums are best stored elsewhere), video tapes and DVDs (place them in baskets or good-looking storage boxes), loose papers, binders and notebooks. Try to find other locations for these items, such as in a home office or in a closed cabinet or closet.
During a recent redesign, my client had a gorgeous dark wood bookcase with elegant fluting and lighted glass shelves. It has been placed off center on the large living room wall, but my partner and I moved it front and center, so it became the focal point around which the furniture was arranged. We carefully edited her accessories, placing books on the bottom shelves and one large, striking item on each of the glass shelves. By only using one item per shelf, each piece gained importance and commanded more attention. My client was thrilled with the final result.
To arrange bookcases attractively, try to use a combination of books and accessories, and don't be afraid to edit your accessories. To give the bookcase a more formal look, remove the dust jackets from hardback books, revealing linen book covers with gold lettering. Try to move trade paperbacks to another location in the home, as these books are not so attractive. If this is not possible, group all trade paperbacks together on their own shelves. Have some books stand upright and some books stacked lying down. A single photo or accessory can sit on the stack of books or act as a bookend. Varying the horizontal and vertical placement of books and accessories makes the arrangement more interesting.
Another option is to place taller books in the middle of a shelf, and shorter books (from tallest to shortest) on either side so that they create a pyramid shape. Use bookends to hold the books in place.
A small piece of art looks beautiful displayed on an easel, and silk greenery adds a nice touch to the arrangement.
Family photos are wonderful to use in bookcases, but it is easy to go overboard. Keep your favorites and intersperse them among the books. Place other framed photos on side tables, or create a large photo collage to hang on the wall. I impart this advice loosely, however, as I find it as difficult as all of you do to take down cute pictures of my kids. Luckily there is no "bookcase police" to come and tell you to remove them. If they make you happy, I won't say a word about it.