Q. I just bought a new sofa with a floral pattern, and now I'm not sure what I should do with the chairs. Should they match the sofa? What about the drapes? Should they match the chairs, the sofa or should they be different? Help!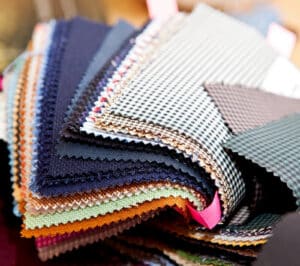 A. Many people find it challenging to mix different patterns. They feel more comfortable purchasing a matching sofa, loveseat and chair. Good for you for wanting to avoid that "matchy-matchy" look. Mixing colors and patterns makes a
room much more interesting, and it is not as difficult as it may seem.
As a general rule, vary the size of the patterns by including fabrics with small-, medium- and large-scale designs. Aim for at least three fabrics—one for the sofa, another for the chairs, and the third for the draperies. Additional patterned fabrics can be used for dining room chair cushions, accent pillows and ottomans. Since the floral fabric on your sofa is large-scale, so you'll be looking for small- and medium-scale patterns for the other pieces.
Stripes and geometrics work very well with floral patterns. Using the colors from the floral– varying shades of aqua blue, rose, green and cream– look for a geometric design for your chairs that includes one or two or three of those colors. For example, look for a small-scale blue and green-colored diamond pattern or a raspberry and blue pin dot pattern. As an alternative, a medium-scale plaid or stripe in rose, blue and cream would also work.
The two chairs should match each other, but a third accent chair can be in a different but coordinating fabric. How about luxurious velvet in aqua blue or raspberry?  Although it is a solid color, the velvet provides a lovely texture. The two head dining chairs can be in the same fabric as the sofa, while the side chairs can be in the same blur or raspberry velvet.
Patterns should share the same collection of colors, but do not necessarily need to have the same number of colors. For instance, you can combine a floral pattern of five colors with a geometric or stripe that incorporates three of those colors, and a tone-on-tone stripe that's just a single color.
Let's talk about the drapes. Since the walls in your living room are painted a warm cream color you have some leeway here. Which of the colors from the floral sofa would you like to see more of–the rose, aqua blue, green or cream? For a quiet look in the room, choose a cream-colored fabric that blends into the walls. Don't try to match the wall color exactly—instead choose a color that blends well. Going a little bit darker than the wall will add some richness without adding a lot of contrast.  Choosing a similar color for the drapes and the walls also helps make a room look more spacious. However if you like contrast and want the drapes to stand out more, choose rose or blue fabric for the drapes. Consider customizing your solid color drapes by adding some patterned fabric to the bottom or side hems. Tone-on-tone fabrics make lovely window treatments, as they provide pattern without looking too busy in the room. And striped fabrics are also a great choice for draperies.
Make some accent pillows out of the drapery fabric for the sofa or the chairs. And while you're at it, make one or two additional accent pillows in the chair fabric for the sofa. Pillows are a great way to tie all the furniture pieces together. Add some texture to the pillows by trimming them with a variegated fringe that incorporates two or three colors in the room.
By selecting a variety of coordinated colors and patterns, your room will be unique and interesting.