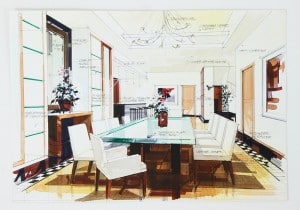 Is your dining room in need of a facelift? Whether your dining room is formal or informal, here are some decorating tips to help make it special.
Before purchasing new dining furniture, measure the room to keep you from buying a table that is too large. Ideally you would want at least 36-42″ of clearance around the table, measured from the edge of the table to the wall. This will give diners enough room to pass behind the chairs.
Consider two different types of dining chairs—for example, the head chairs can be fully upholstered, while the side chairs can have upholstered seats and wood backs. Choose fabric for the head chairs that will work well in your living room too; that way you can bring those chairs into the living room when you entertain.
Before purchasing a new chandelier, again, take note of the measurements of the room and of the table. A good rule of thumb is to look for a chandelier that is 1/2 the width of the dining table. For example, if your table is 48" wide, look for chandeliers that are approximately 24" wide.
If your room has eight-foot ceilings, install the chandelier so that the bottom is approximately 30 inches above the tabletop. Add three inches for every additional foot of ceiling height.
Install dimmer switches on all of the light fixtures. This will allow you to create just the right mood for the occasion.
Warm colors are wonderful in dining rooms. Reds, oranges, and yellows stimulate the appetite while exuding a friendly, welcoming feel. Select rich, muted colors rather than bright, pure colors for a subdued, elegant feel. Examples are: terracotta or cinnamon rather than orange; burgundy or rose rather than red; creamy yellow or gold, rather than pure yellow.
If you prefer cool colors, warm up the dining room with small accents of a warm color. For example, in a taupe dining room, use touches of red. You might use red in a floral arrangement, in a piece of art, in your dishware or in the chair fabric.
If your living room and dining room are open to each other, make sure to use the same colors in both rooms to tie them together. If you have a burgundy sofa, for example, cover your dining chairs in a patterned fabric that has burgundy in it.
Create a custom floral arrangement with the colors in your color scheme to use as a centerpiece.
For window treatments, vary the style of the treatment. For example, hang gorgeous drapery panels in the dining room, and swags in the living room. Using the same or coordinating fabrics in both rooms will tie them together.
When displaying china in the china cabinet, resist the urge to overfill the cabinet. Display what looks aesthetically pleasing, and store the rest elsewhere.
When arranging your china cabinet, use plate stands for your dinner plates to create backdrops for your crystal.
Use a table runner instead of a tablecloth to show off the beautiful wood table. Don't hang artwork too high. Hang art at eye-level while seated.
Candles are always right at home in a dining room. Group a collection of silver candlesticks on a tray for a simple centerpiece.