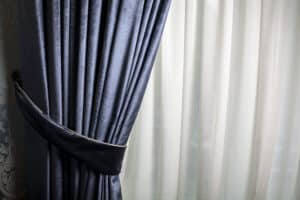 Are your window coverings in need of an update? Perhaps you notice a cold air entering or warm air escaping through your windows; perhaps your needs have changed and you would like to have a dark room in the morning so you can sleep in. Perhaps your current window treatments look outdated or worn out, or privacy is an issue. No matter what the issue is, there is always a solution. Here are some common scenarios and some options of how to treat the windows.
You've installed a large new flat screen TV and would like to turn your family room into a full-blown media room. Anytime you need your room to be nice and dark for movie watching and sleeping in, a great option are room-darkening honeycomb shades, such as Hunter Douglas Duettes. They fit snugly inside your window casings, look sleek and modern, and block out almost all the light. They come in dozens of colors and pleat sizes and can even come motorized, which is a great option for those hard-to-reach high windows and for people who have a hard time with lift cords. Plus, remote control blinds and shades are just plain fun. To block even more light and add a decorative touch, operational drapes can be added to the windows. Duette Honeycomb shades are also the most energy efficient window treatments on the market today. They offer incredible insulative properties and UV protection.
You have a home office and have trouble with glare on your computer monitor. A window treatment that offers you the ability to control the light would be a great choice. This means a product that allows you to open and close the louvers, such as a plantation shutter, or a wood or metal blind, or a vertical blind. The choices in louver size and color are numerous—there is something in every price range and for every decorating style.
You have a lovely view out your windows and want to cover the windows but don't want to sacrifice light or view. Two wonderful options are Hunter Douglas Silhouettes and Pirouettes. Both of these beautiful products offer privacy and still let soft, filtered light come in through the windows when the shades are fully closed, and when the vanes are open, the sheer fabric maintains the view. These lovely treatments look great on their own, and can also be dressed up with fabric valances and decorative curtain panels.
You have a sliding glass door and don't know what your options are. Luckily there are many options now for sliders. The most popular option is still vertical blinds. Many people think they hate vertical blinds because they remember the old style they used to have. I invite you to take another look at verticals, as there are many options available—woven fabrics, linen looks, attractive textured vinyls, and even wood verticals. These are still a very practical and affordable option. Other options include drapes, of course, Duette Vertiglides, which are vertical versions of Duette shades made specifically for sliding doors, Luminettes, which are in essence a sheer drapery and a vertical blind in one product, and gliding panel tracks, which are very contemporary looking and look terrific.
You have windows that face the street and desire more privacy, but don't want to block all the sunlight. To solve this problem, look for a product that offers a Top Down-Bottom Up option. Honeycomb shades offer this option, as do Roman shades and pleated shades. This feature allows you to lower the shade from the top of the window down, thereby offering privacy on the bottom, and light from the top. It's perfect for street facing windows or windows that look right into your neighbor's house.
With all the options available today, there is a solution for every window.