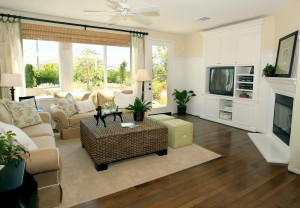 You want to spruce up your home, but you don't want to spend a lot of money. In this column, I'll give you suggestions for how to improve the look and feel of your rooms without spending a fortune.
Entry: Let's begin at the front door. Create a welcoming space for your family and guests. If your entry is too small for a table, hang a crownmolding ledge with a mirror above it to create a space for dropping keys and mail. An entry is a great place to try a bold color or wallpaper pattern, since it is a self-contained, small space. Wallpaper or paint the largest wall, or go for it and do the whole entry.
Living room: Blinds or shades on the windows are great, but to really finish off your windows, add some curtain panels on each side. They don't need to close all the way; they are merely decorative, but boy do they add a lot to a room. The fabric will really add some softness, weight and color to the space. Use fabric in a color similar to the wall color to keep the room looking large and formal; use a contrasting color for a more casual, friendly look.
Instead of matching table lamps on either side of your sofa, update your lighting by installing wall sconces above the side tables. There are many plug-in varieties, so no hard-wiring is needed. Another option is to hang pendant lights from the ceiling right above the side tables. It's a great look, and it also frees up space on the tables. This is a great look in a bedroom too.
Dining room: Most people have matching dining chairs, which is expected and certainly reasonable. But for a little more pizzazz try one of these ideas: Replace your head chairs with fully upholstered wing chairs or parson's chairs. Choose a fabric and color that blends with your living room, so the chairs can be brought in for extra seating. Or reupholster your existing chairs in two different fabrics—one fabric for the side chairs and another for the head chairs.  As in the living room, add curtain panels to plain windows to add texture, color and softness.  Add crown molding to the ceiling to define the space, and paint or wallpaper inside the crown.
Bathrooms: Perk up a plain bathroom with large, colorful artwork. Pull a bold color from the artwork and paint the ceiling with it—you'll love it! Keep the walls neutral. Repeat this bold color in towels and accessories.
Bedrooms: I love lots of pillows on the bed. I know it's harder to make in the morning, but it sure looks pretty! For a queen size bed: Two Euro pillows (large square) in the back with decorative shams, then two standard pillows with decorative shams, then two decorative throw pillows, then one smaller rectangular pillow or round bolster pillow in the front. The pillows you use for sleeping should hide behind the Euro pillows. Please use sheets in coordinating colors! A cozy duvet or throw blanket (again, coordinating colors please!) can be folded at the foot of the bed.