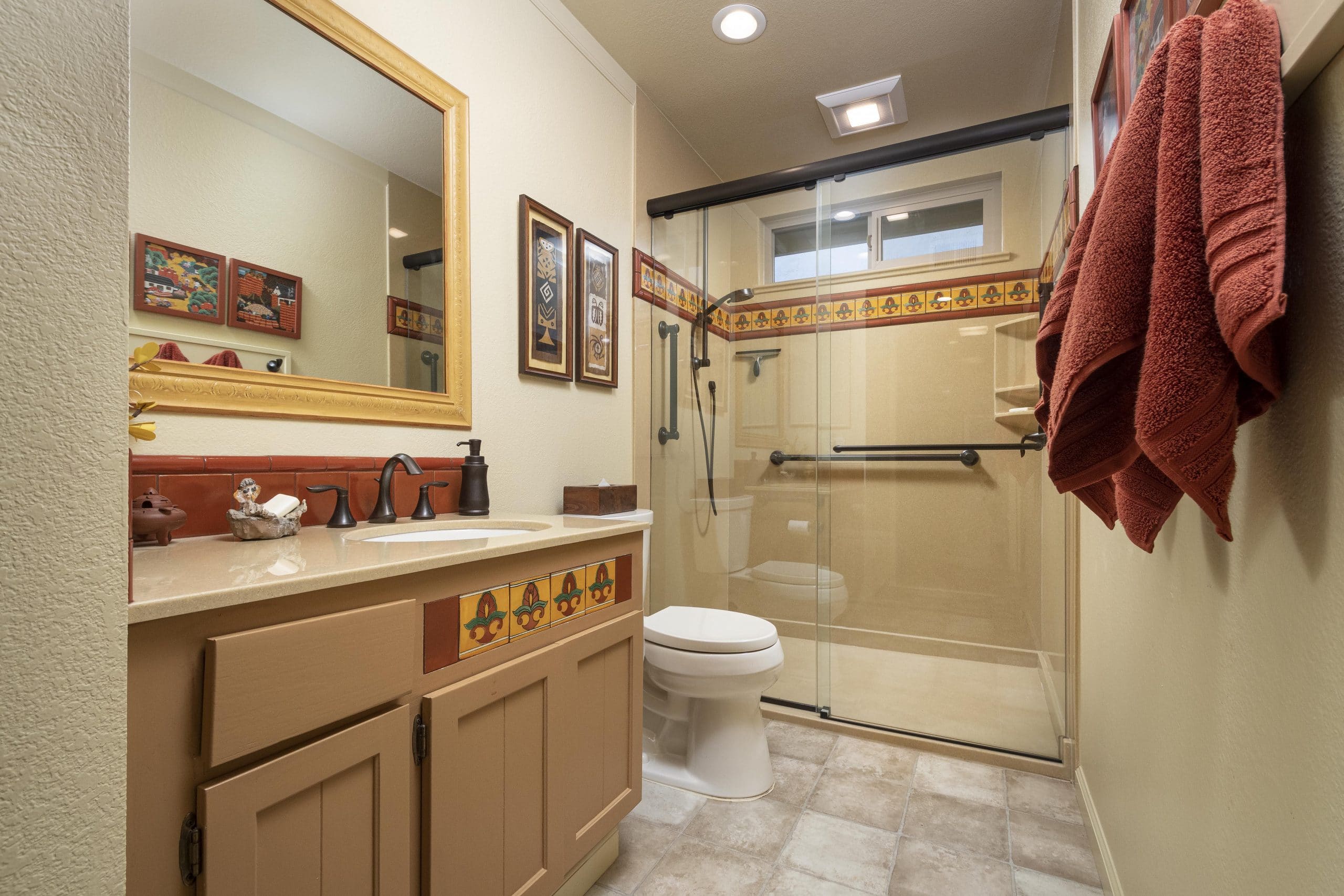 More and more clients are asking me to design baths that allow for greater accessibility and safety. People really do want to think ahead and plan for the day when everyday tasks become much harder, or when an aging parent comes to live with them. Even the most able-bodied among us can be stricken at any time with a broken leg, a debilitating illness or any variety of unforeseen circumstances.
Having a home you can live in comfortably and safely as you age, or through bouts of illness, injury, or disability, is very important. You may have heard the term "Universal Design." Universal design simply means designing for all ages and abilities. It includes features like curbless showers, wider doorways, grab bars, taller toilets and wall-mounted sinks, among other things.
Fortunately, there is no reason for an accessible bath to look anything other than beautiful. Hand showers, bench seats and grab bars can be a very attractive part of the overall design. Here are some features to consider when planning your bath.
Wider doorways:
Standard interior doors are 30- 32 inches wide, but universal access requires 32 inches of clear space when the door is open. This allows enough space for a walker or a wheelchair. Remember, the door itself takes up space, so make sure the clear opening itself is at least 32". It's best if the door swings outward, rather than into the bathroom, but this is not always possible or practical, especially if the bathroom is located in a narrow hallway. If there is space, consider a pocket door, then there is no door swing at all to contend with.
Grab bars:
Some clients ask me for these, and others don't want to admit they may need them someday. Even if you don't think you want grab bars right now, ask your contractor to frame the walls surrounding the bathtub, in the shower and around the toilet with enough studs so that you can install them later. But why not just have them installed now? You might really appreciate it after a particularly intense workout, or a twisted ankle, or a nasty flu. And they are also great for hanging wet bathing suits! And fortunately, manufacturers have figured out that people don't want their baths to look like a hospital, so there are many attractive styles to choose from.
Curbless showers:
Curbless showers are flush with the rest of the bathroom floor, so people using wheelchairs or other mobility devices have no trouble entering and exiting the shower. The shower floor is sloped toward the drain, and a glass shower enclosure or a long shower curtain can help keep the water contained. It costs a bit more in labor to install a curbless shower, as there is extra work involved. But in terms of accessibility, it is worth it.
Hand-held shower heads:
These can be very handy for a variety of reasons, not just for accessibility. Many people like them because it makes it easier to clean a tub or shower; others like them because it makes it more convenient for bathing children or pets. And, in instances where one spouse is much taller than the other, a hand shower on a slide bar allows each partner to adjust the height of the shower head as needed.
Bench seats in the shower:
Again, these can be handy for a number of reasons. Women like them because it's easier to shave their legs; they also provide an extra surface for shampoo and other toiletries. If your shower space is limited, a corner bench seat can be useful without taking up a lot of space. Or, you might decide it's best to leave the entire shower clear, and plan to bring in a portable shower seat if it's ever needed.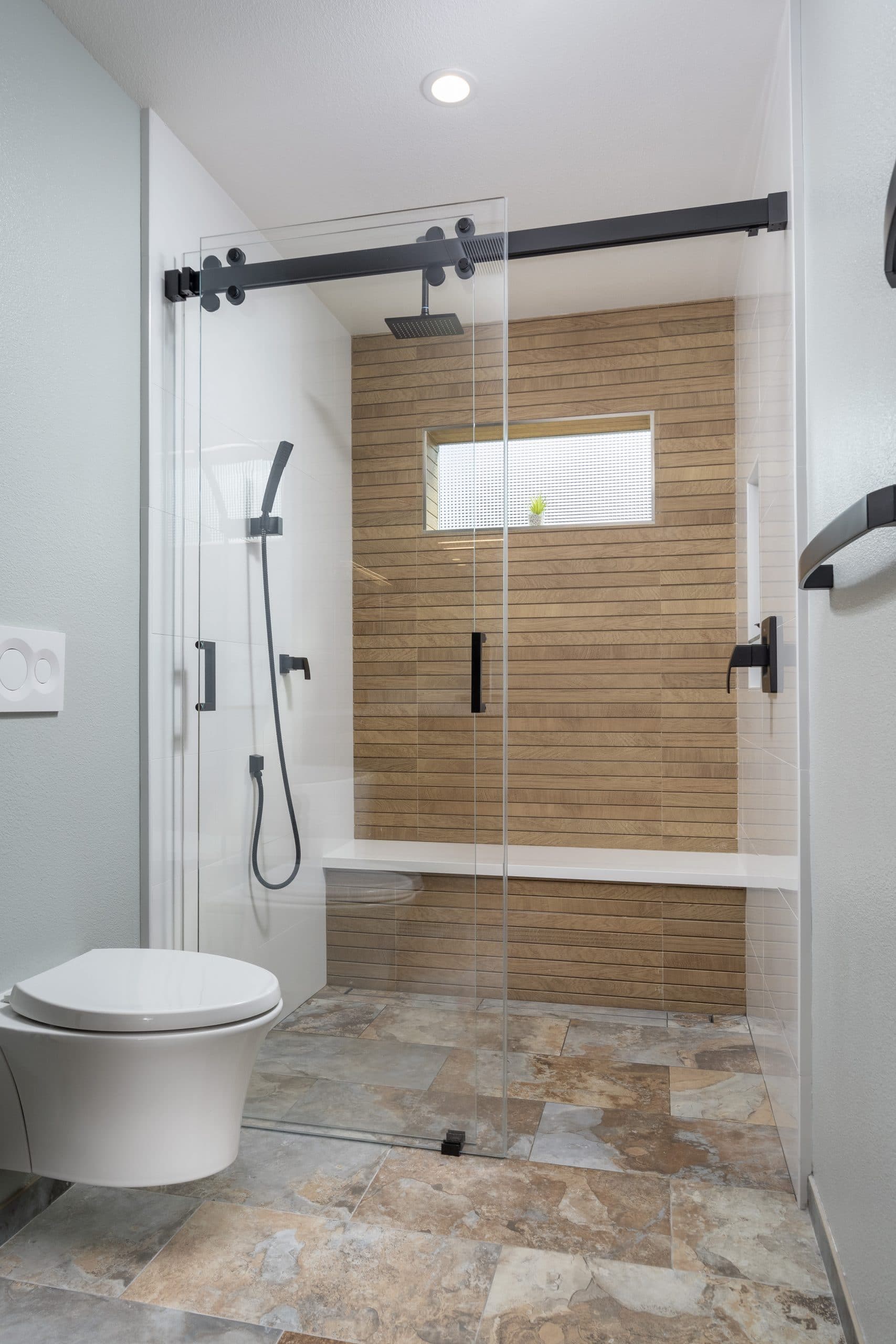 Taller toilets:
You may have noticed that toilets are getting taller. The old standard was 14-16" in height, while the new toilets are about 18" in height, which is chair height. Most people prefer this new height, as it is much easier to get up and down. Grab bars next to the toilet are also a good idea for a little extra help.
Wall-mounted sinks:
If you do need to accommodate a wheelchair, then a wall-mounted sink is ideal. With a wall-mounted sink, the person can wheel herself close to the sink and be able to use it easily. You forgo the storage that comes with a traditional vanity cabinet, but there are other ways to incorporate storage in the bath, and with the floor clear, cleaning is much easier.
Other safety concerns:
Make sure the flooring material is non-slip. Use tiles with a matte finish, sheet vinyl, or waterproof laminate. For lighting, add a recessed light in the shower, and consider a motion sensor night light for late-night bathroom visits.
There is no reason your beautiful bath can't also be safe and functional.