Although this room was functional and certainly checked off all the basic boxes, my clients' master bedroom and bath was in need of a makeover. A few years ago I helped these dear clients renovate their entire downstairs, and now it was time to tackle the upstairs.
Interior design involves a lot more than using just beautiful materials; it is also about resolving issues and making spaces more livable and comfortable for the people who live there. Some of the problems I aimed at resolving were: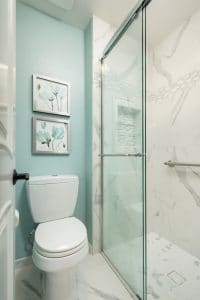 1) Making the small shower safer.
There was no way to expand the bathroom in this townhouse, but by installing non-slip mosaic tile on the shower floor, and making the shower floor curb-less, as well as adding two grab bars, the new shower is now much safer. The large format marble-look porcelain tiles on the adjacent bathroom floor and shower walls are not only attractive, but are also very easy to maintain. Using the same tile on both the walls and the floor makes the space appear larger, as does the clear glass shower enclosure.
2) Creating space for the TV and making the closet less awkward and more accessible.
Because of the chimney from the downstairs family room, what looks like a large bedroom closet is actually an awkward closet with no wall for the TV. This meant that the TV cord had to trail from the TV to the nearest outlet, which was not that close! So I set about redesigning this whole space. Once we removed the sliding doors, we were able to divide the closet into two distinct sections, separated by a new wall large enough for the TV. A pair of swinging doors allows for easy access to each section, and new shelving inside provides ample storage. This is much more attractive, as well as much more functional.
3) Improving the bathroom storage.
In the makeup area across from the sink, two wide drawers provide storage for cosmetics. The ample countertop surface, large mirror and LED lighting make for a very comfortable place to get ready for a busy day. On the sink side, where there used to be just a large cabinet under the sink, there are now two tall pullouts, perfect for tall bottles, extra toiletries, even a hairdryer and curling iron.
Besides improving the functionality, many beautiful touches were added. Notice the sparkle on the crystal cabinet knobs in the bath, and the cut glass orb chandelier above the bed. Even the countertop has a bit of bling— small crystals embedded into the quartz. The mirrored night stands and polished chrome plumbing fixtures add even more sparkle. The cool blues paired with crisp whites make this room restful, relaxing and spa-like. It's a wonderfully updated, comfortable and lovely space now, and my clients are very happy with the results.