Excited about the upcoming arrival of baby number two and a lengthy visit from the grandparents, these clients challenged me to reconfigure their existing laundry and powder rooms into an improved space which would include a larger washer and dryer, plus a full bath with a shower. They also desired a little more space for jackets, shoes and all of the items needed when leaving and entering the house through the garage. By removing one wall and adding another, and borrowing a few feet from the adjacent hallway, I was able to fulfill their requests with a lighter, brighter, more modern laundry room, bathroom and "mudroom."
Before: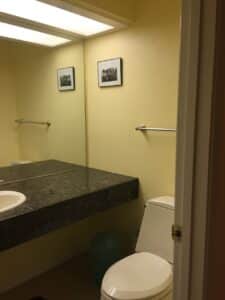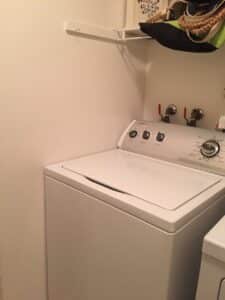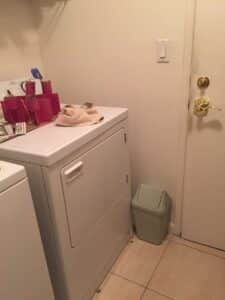 (Scroll down for "after" pictures)
The new bath could have been featured in my previous article about tiny baths—it is quite small, but it does provide the basics in a very attractive way. The all-glass shower features two shelves for toiletries and beautiful glass tile accents. I used the same large tiles on the walls and the bathroom floor to visually enlarge the room. The matching 2 x 2 mosaics were used on the shower pan, which we made flush with the floor to gain as many inches as possible inside the shower.
The medicine cabinet provides some additional storage, and by using a pedestal sink rather than a vanity cabinet, I kept the room from looking too crowded.
There is plenty of light, with an LED recessed can light in the shower and the vanity light above the sink. We also updated the lighting in the laundry area with LED recessed cans.
The creamy off-white wall color was chosen to blend with the tiles, and again, to keep the room looking light and bright.
I used the same tile flooring and wall color in the adjacent mudroom and laundry area for continuity. They had purchased a few hand-made ceramic tiles on a trip to Europe, and we were able to incorporate them into the floor, adding a personal touch.
The new laundry area features a large stackable washer and dryer. Custom cabinets were designed to fit alongside it, providing plenty of storage for supplies, and a small countertop to hold the laundry basket. (At the time the photos were taken, the cabinet had not been completed yet, which is why it does not appear.)
In the mudroom space, we placed a bench seat with open cubbies below for shoes, a shelf with cubbies above it, and several hooks on the wall for jackets and bags,
After: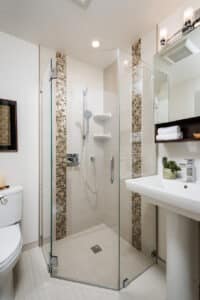 It's amazing what can fit into a relatively small area, with a bit of creativity, and a few compromises. The finished space is just what the clients wanted, and the best part is that we finished in time for the new baby's arrival!