When it comes to interior design, many people find it easier to tell you what they don't like rather than what they do like. Can you describe your own design style? Are you traditional? Modern? Contemporary? Classic? One reason it's so difficult for us to pin down one particular style is that most of us, at least here in California, tend to gravitate toward a mix of styles. Seldom do I see (or design, for that matter) a room that's 100% one way or another. Have a look at these kitchens and you'll see what I mean. In each example, there is a blend of elements, materials and finishes, all fitting the personalities and lifestyles of the clients who own them.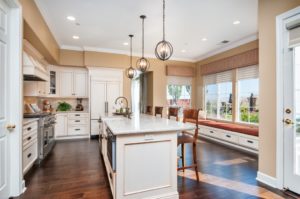 "Traditional" and "Classic" elements– In some traditional and classic kitchens, you'll find natural wood cabinets, and in others you'll see painted cabinetry. Both types can fit into traditional décor. Painted cabinetry is often glazed or antiqued to give it more character, and wood finishes tend toward the dark, formal and dramatic. Color schemes tend toward neutrals like earth tones and black and white. Traditional kitchens often feature beautiful millwork, such as crown molding and embellished cabinets. Decorative corbels supporting breakfast bar countertops, and furniture-style toe kicks are definitely elements of a traditional kitchen. So are custom wood hood vent surrounds. You might see farmhouse (also called apron-front) sinks, and elegant plumbing fixtures. You'll often see luxurious materials like marble tile backsplashes and natural stone counters.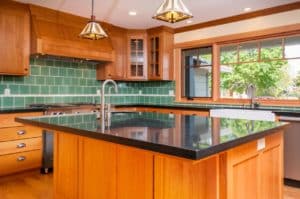 "Contemporary" and "Modern" elements– Contemporary kitchens might also feature natural wood or painted cabinetry, but the door style is much simpler, less ornate, with cleaner lines. Very modern cabinets might have a high-gloss lacquered finish in white or black or a bold color like orange. Shaker style or flat-front (also called slab) cabinetry is very popular for contemporary and modern kitchens, and in some kitchens, you'll even see wood grain running horizontally rather than vertically. Mixing natural and man-made materials is also common. For example, you'll see sleek quartz countertops paired with marble tile backsplashes, or granite counters combined with glass tile. Decorative light fixtures and pops of color are also characteristic of a contemporary kitchen. Faucets and sinks will be simple and unadorned, often stainless steel.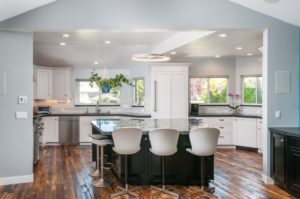 Distressed wood floors and heavily textured stone backsplashes are two popular features you might see in today's contemporary kitchens. A strategically selected rustic element can soften the look of a very modern kitchen and make it more casual and livable. For example, combining hand-scraped, distressed wood floors with sleek, crisp cabinetry creates an interesting juxtaposition, and also provides a practical walking surface for busy families with kids and pets. Unless the entire kitchen is designed intentionally as a rustic mountain cabin, the addition of one or two rustic elements does not make the kitchen any less contemporary.
All of this brings me to "transitional" design—a very popular term used today to describe a design style that I think most of us can relate to very well. I define transitional design as a successful blend of both traditional and contemporary elements. I think that all of these kitchens shown can be described as transitional kitchens. Some may lean a bit more traditional or more contemporary, but none is a pure example of any one style. These days, unless you really know undoubtedly which style you prefer, chances are you'll feel right at home in a transitional kitchen, blending elements of traditional, classic and contemporary styling.