Green is one of the most versatile colors in interior design. Since it is so prevalent in nature, it can work in almost any room, and almost any design style, from traditional to modern. On the color wheel, green is considered a cool color, although it is a mixture of cool blue and warm yellow. Greens can lean more blue—like emerald green—or more yellow, like avocado. Regardless of which way it leans, color psychology tells us that green is the color of balance and harmony, with the ability to restore and rejuvenate us.  Given the abundance of green in nature, it can actually be considered a neutral color. Green plays very well with almost every other color. Think of a garden, where green leaves sit beside reds, pinks, oranges, purples and yellows.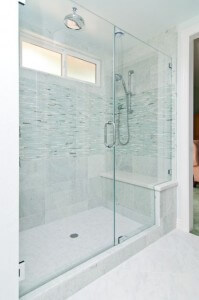 Muted shades of green are relaxing, making green an excellent color for bedrooms and baths. Research has even indicated that blue-greens can actually have a stress-relieving effect on us, and can even help lower blood pressure. Doesn't the soothing light minty green color of the marble in the large spa shower make you want to relax and luxuriate in the shower? (Not that I am recommending that, given our serious drought situation. But the feeling is definitely there, isn't it? But even short showers can be more relaxing when surrounded by lovely colors like this blue-green.)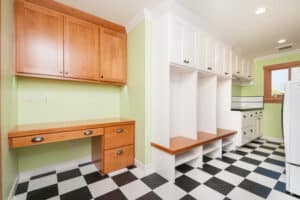 More vibrant shades of green can add a welcome burst of energy to a space. Note the lime-sherbet green walls in the laundry room photo—set against the high-contrast black and white color scheme, the overall look is friendly and fun. Lime green also looks great combined with magenta or turquoise.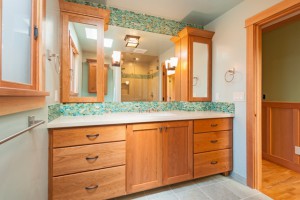 Greens look wonderful with all wood tones as well. Just look out your window and notice the trees—dark and light green leaves combined with dark and light tree branches and trunks. It all works together well.  Warm wood tones provide a great balance for the cool green colors, as illustrated in the bathroom vanity photo. Look at how beautifully the green wall color and glass mosaic tiles pair with the natural cherry wood. With nature as your inspiration, you can't go wrong incorporating green into your décor.