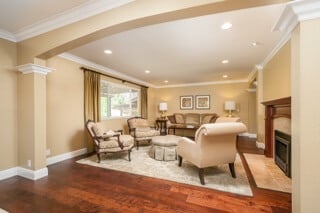 This living room recently underwent a striking transformation. It's amazing what some redecorating can accomplish! My client had furniture she liked, but not enough to fill the space. She wanted to create a living room that was cozy and comfortable for her, but that also welcomed guests to sit and relax. She also wanted to redesign her fireplace so it had more presence in the room.
I began with a new furniture arrangement. She had placed her sofa facing the fireplace, and there's nothing wrong with that. However, the original arrangement left a large empty spot along the back wall. The new arrangement features two sitting areas—four chairs arranged for conversation in front of the fireplace, and the large sofa along the back wall. When needed, two of the chairs can easily be turned to include the sofa and create one large seating arrangement. This design filled the space nicely, and allowed for two more people to join the group.
I used her existing furniture to fine tune the color scheme, and selected two new chairs, an ottoman, an area rug, table lamps, window treatments and artwork to complete the look. The new color scheme is a warm and rich combination of golden tan with sage green undertones, a restful and relaxing monochromatic palette. The wall color is Kelly Moore's Serengeti Safari, and we repainted her beautiful moldings in Kelly Moore's Swiss Coffee for a crisp contrast.
The biggest change was the flooring. Removing the beige carpet and replacing it with hardwood really brought a wow factor to the room. The fireplace was also transformed from barely visible to striking and elegant with marble mosaic tiles and a custom wood mantel.
If you are planning to redecorate your living room, here are some tips to keep in mind:
Try a new furniture arrangement. Instead of a predictable sofa and matching loveseat, try four chairs around a coffee table, or a sofa and two or more chairs.
Use a variety of fabrics. You'll notice that we used five different fabrics in this room, plus the area rug. While all of the support the color scheme, they each have a different pattern and texture, which adds a lot of interest to the room.
Use an area rug to define a seating arrangement. Make sure the area rug is large enough so the furniture sits on top. You can use an area rug on top of carpet if it's large and heavy enough to stay in place; you can also use a rug pad underneath the area rug to enable it to "stick" to the carpet underneath.
Don't be afraid to go a little darker than you think on the wall color. Darker colors can provide richness that just doesn't exist with lighter colors.
Don't forget the window treatments. My client had wood blinds before, which we kept, but the custom curtain panels framing the window really add a nice finishing touch.