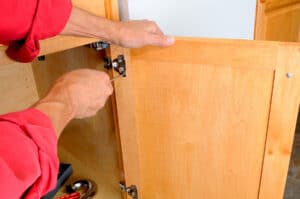 A few weeks ago I wrote about planning a bathroom remodel. This week I thought I'd tackle kitchens. Whether you do the bulk of the work yourself or hire a general contractor, I've provided a sample timeline so you understand what to expect. A typical kitchen project takes 6-8 weeks, and it can be longer if walls are being moved or if adjacent rooms are involved. For example, in one recent project, my clients not only remodeled their kitchen, but also made substantial changes to the adjacent family room. Those changes included raising the floor in their step-down family room so it would be level with the kitchen, installing new wood flooring, new built-in cabinetry, and a new sliding door and window.
As you are planning your kitchen project, keep these steps in mind.
Design the kitchen layout and select all materials. Spend a good amount of time on this step. The more detailed you are with your design plan, the more accurate the contractor can be with his price quote. Will you be keeping your appliances in the same location? Or is there a better way to plan the space? Perhaps you need more counter space—can you move the double ovens away from the cook top and open up more space for prepping? Is there enough room for an island? Do you need more cabinet space? If so, can you build some in the adjacent dining area? Or make your existing island a little longer or wider? Take time to investigate your options for materials. At this stage, a professional designer can really help you narrow down your options and put together a space plan and design that fits your taste and lifestyle.
Obtain permits. After you have your design created, take your drawings to the city to obtain any necessary building permits. The homeowner or the contractor can take care of this step. The city will want to know the type of plumbing and lighting you are using—there are strict building codes regarding water flow and energy efficiency, as well as requirements regarding the number and type of electrical outlets needed. There will be periodic inspections during the remodel process.
Select appliances, sinks and faucets. The cabinets are built around the appliances, so it's important to select these first and make sure the cabinet-maker receives all the dimensions and specifications.
Order the cabinetry. This is typically the item with the longest lead-time, so order these before starting any demolition. Your contractor will typically start construction approximately two weeks before the cabinets are due to be finished.
Start construction. Demolition, framing, rough plumbing and rough electrical work will be the first steps. Are you changing your electric cook top to gas? Do you need to add more outlets? Are you adding more lighting? All the wiring and plumbing will be done at this stage. The cabinet drawings are needed so the contractor knows where the plumbing and electrical wiring need to go.
Install, tape and texture the sheetrock. After the old kitchen has been torn out and new plumbing and wiring has been installed, there will be wall repair. After the new sheetrock has been installed, textured and prepped, then painters will come to put on a fresh coat of your chosen wall color.
Install the cabinetry. Contractors will generally leave off the cabinet doors until the end, to avoid potential damage when the floors, counters and appliances are installed.
Create a template for the new countertop. After the cabinets are in, the installers for the new countertop will come and take final measurements and create the template for your new counters. After about a week or so, they will return with your beautiful new counters and install them. You're in the home stretch now.
Install the backsplash. This can be tile, stone, glass—any of a wide variety of options.
Install the new flooring. This can be done anytime after the cabinets are installed, but often contractors wait till after the counters and backsplash are in, again just to avoid any potential damage to the floors.
Install appliances, sinks, faucets, and light fixtures. Now the kitchen is almost finished!
Install cabinet doors and cabinet hardware.
Finishing touches: paint touches, final trim moldings, caulk baseboards, install window treatments, and anything else that may be left to do.
Final cleaning: the new kitchen will be dusty—some contractors include a final cleaning as part of their work, but some don't. You might want to ask about it this at the beginning. You'll want to do a final cleaning before you move in.
Kitchen complete! Although it always seems like it takes forever, a few weeks of inconvenience will result in years of enjoyment.