My husband and I recently returned from a long-awaited vacation to New Zealand to celebrate our 30-year wedding anniversary (yes—the scenery really is as spectacular as you imagine!) We stayed in four different hotels over the 12 days, and the designer in me couldn't help but notice not only the room decor, but also the amenities provided to make us feel comfortable. Many of you will be hosting guests over the upcoming holiday season, and there also may even be some of you offering rooms in your home as Airbnbs. In this column, I thought I'd share some observations and ideas to prepare your home for guests. And I've provided a few shopping links below as well.
At the bedside
USB outlets on the nightstands. A really nice touch is to provide a charging station for cell phones and tablets. In one of our hotel rooms we had a small USB powerstrip right on the nightstand so we could have our phones nearby. As an alternative, check out the table lamps that have USB ports built in to the lamp base. This is a great idea, and one I've used in many bedroom design projects.
Water. Such a simple thing, but it was so nice to have a water bottle and a glass on each bedside table. It's effortless for you, but a very welcome touch for your guests.
Reading lights. This can be in the form of table lamps or wall mounted lights. In many homes I go to, there is a ceiling light in the bedroom, but no table lamps. Your guests will thank you for providing additional lighting!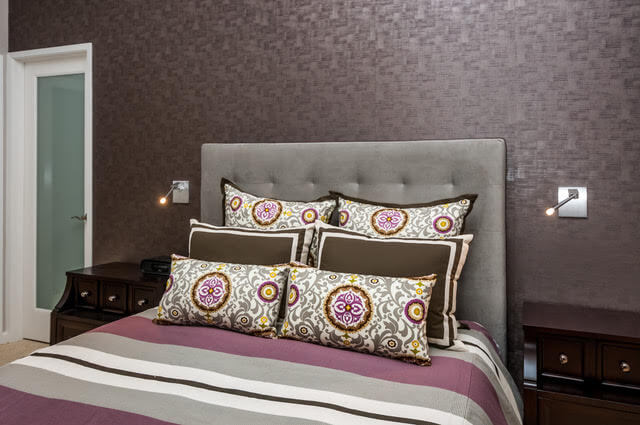 In the bathroom
Inevitably, guests forget one or two toiletry items, so, besides the obvious shampoo and soap, it's nice to keep a basket or drawer in the bathroom for cotton balls, makeup remover, toothpaste, hand lotion. You might also consider a hairdryer, sunscreen, shaving cream, a few bandaids, a nail file. Guests can sometimes feel shy about asking, so think ahead about things your guests might need.
For the suitcase
Provide a bench at the end of the bed or a luggage rack for suitcases; living out of a suitcase can be uncomfortable enough, but having it on the floor and tripping over it makes it tougher. Also, make sure there are several hangers in the closet, and, ideally, a drawer or two, so guests can unpack some of their things and feel more comfortable.
Other comforts
One hotel provided robes and slippers to us. So nice!
Another hotel included an extra blanket in the closet so we didn't have to call down to the front desk.
A small thing, but I love when hotels provide a plastic bag for dirty laundry.
Offer a basket of snacks, an electric tea kettle and some tea bags, or a Keurig coffee maker, so guests can help themselves.
Of course, a comfortable bed is key! Nice linens, good quality pillows, and a pretty presentation will make for very happy guests.
Some shopping links: