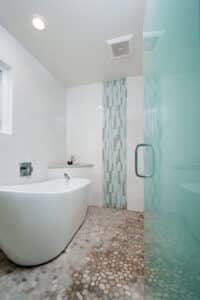 In every relationship, one spouse favors certain things, and the other spouse favors other things. In remodeling, those differences often come to the forefront, and it's up to the designer to create a plan that pleases both partners. I've worked with many, many couples over the years and have learned what questions to ask and what to do to strike a perfect compromise. For example, in some relationships, one partner loves baths while the other prefers showers. One likes to have a separate sink and drawers, while the other doesn't mind sharing. One favors traditional styling while the other loves contemporary.
Here are some tips I can offer so you both get what you want.
1- Make a priority list.
Each partner should write down his or her must-haves for the project. For example, her list might include a large bathtub, a hardwired makeup mirror, a place to store her hair dryer, and some "bling" in the form of polished chrome fixtures, or a glass light fixture. His list might include a separate room for the toilet, a luxurious large shower head, and an extra outlet on his side of the sink for his electric razor. It's important for both partners to get their lists on paper. They may find they have more in common than they thought!
2- Consider one sink over two sinks.
I've had this conversation a number of times with couples. I will ask them about their habits— do they both use the vanity area at the same time? What's more important to them: their own sink? or more counter space and storage? If you already have two sinks, take some time to determine if you can eliminate one of them. By eliminating a sink, that leaves the option open for a lot more counter space, and more drawers or cabinets.
3- Think about things you need to store in the bathroom.
Do you need to store towels or do you have a separate linen closet elsewhere in the house? Do you tend to buy toothpaste and shampoo in bulk quantities or do you just keep what you need on hand? Are you someone who has multiple hair products or do you share one bottle of shampoo? All of those questions come into play when making design decisions. A traditional medicine cabinet may be the most appropriate type of storage for you; someone else may prefer a bank of drawers, or a tower cabinet on top of the vanity deep enough to store linens.
4- Select materials that make you both happy.
Given that the norm in interior design nowadays is mixing materials, it's relatively easy to select materials that please both spouses. If one likes shiny and smooth, go with polished chrome and glass tile. If one is more outdoorsy and enjoys nature and texture, then consider using pebbles on the floor, or tile that looks like wood.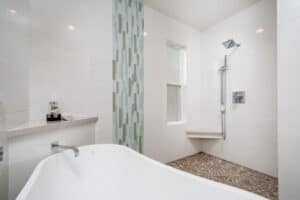 This bathroom underwent a major transformation. Both spouses said they wanted a spa feel in the new bath, and surely you'll agree that they both got their wish. We borrowed space from the master bedroom to enlarge the bath. This enabled us to create a "wet room" with both a bathtub for her and a shower for him. High on his list was a separate toilet room, so I incorporated it into the design. They kept their two sinks and separate medicine cabinets, mirrors and storage drawers. They both like contemporary styling, so that part was easy. And they both loved the mix of materials with the porcelain "wood" tile floor, the pebbles in the wet room, the frosted glass door, the textured wallpaper, contrasting with the smooth quartz countertop.
With advance planning and lots of conversation, pleasing both partners is definitely possible.