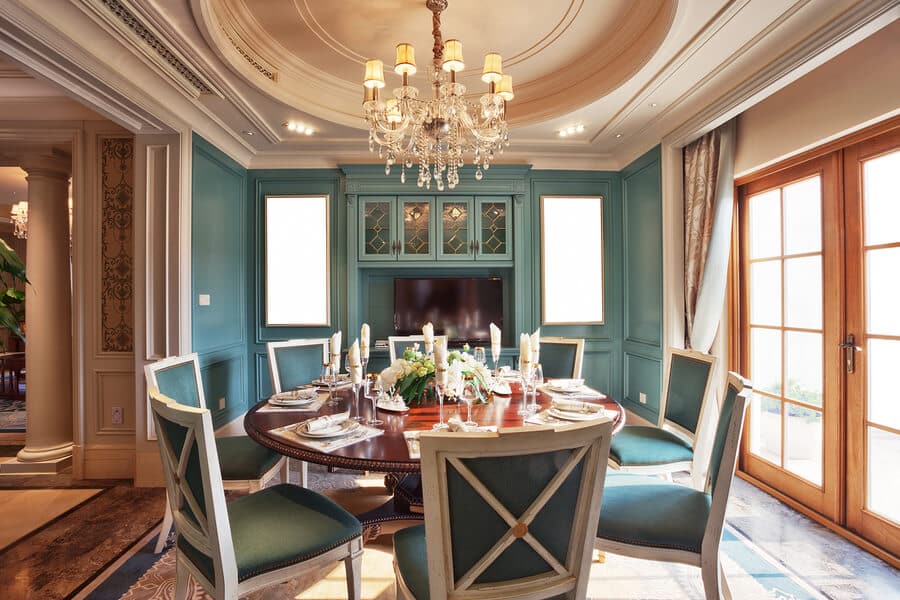 A few weeks ago, I answered questions about paint colors. For this article, let's talk about lighting. These are some questions I get asked all the time.
How high should I hang my chandelier above the dining table?
In general, the bottom of the chandelier should be 30-36" above the dining table. This allows for great illumination of the space, without the chandelier being too low or too high.
What size should my chandelier be?
To size a chandelier for your dining room, measure the length and width of the room and add those figures together. The sum, converted to inches, will give you the diameter of an appropriately sized chandelier. For example—if your dining room is twelve feet wide by sixteen feet long, add 12+16, to get the sum of 28. Convert 28 to inches. So twenty-eight inches would be an appropriate diameter for your chandelier. That said, you can make a really interesting design statement by selecting an oversized chandelier, or by hanging several tiny pendants in a cluster or in a straight line above a dining table. Use this measurement as a guideline, and then feel free to deviate from it, as you feel comfortable.
And speaking of chandeliers, they are not just for dining rooms anymore! You'll see them in living rooms, bedrooms, over kitchen islands, and even bathrooms. Why not replace the ordinary ceiling light in your bedroom with a beautiful chandelier?
What are some other ideas for bedside lighting?
I love hanging wall sconces above each nightstand, or swing-arm wall lamps. Or why not hang pendant lights? These can provide great lighting, and also look very attractive.
I want to hang wall lights in my bathroom—how high should they hang?
Wall sconces hanging on either side of the vanity mirror cast the best quality of light in a bathroom. Usually, they are hung so the junction box is 60-66" off the floor. This is a general rule of thumb—you can adjust a few inches up or down depending on the height and style of the fixture, and also the height of the people using the bathroom. If one partner is tall, and the other is short, aim for a spot in the middle of both heights. The important thing is to have the lighting be at face height. Choosing narrower and taller fixtures is a good idea if the people using the bathroom are different heights. Make sure to hold up the actual light fixtures and see what looks and functions the best before having your contractor cut holes for the junction boxes.
Where should I place recessed can lighting?
In a kitchen, place them strategically where you need light the most. Generally speaking, place them 12-18" in front of the refrigerator and pantry and in front of upper cabinets. You will also probably want one centered above the kitchen sink, and definitely inside a walk-in pantry. You'll also want to illuminate walkways through the kitchen.
In a living room, try to avoid placing recessed cans directly above people's heads as they sit on the sofa—this casts very unflattering shadows on your guests!  Place lights on each side of the sofa instead of right above the sofa. And use 18"-24" from the wall as a guideline for placement. You can adjust this number as needed for function and aesthetics.
If you have beautiful drapes, wallpaper or artwork you'd like to highlight, install directional recessed cans closer to the wall. Usually 12" is a good number to use.