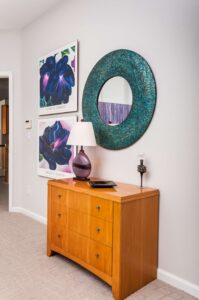 Purple is a wonderful color. It combines the passion of red with the tranquility of blue, and the result is beautifully multi-layered and unique. Color psychologists have determined that purple is the color of imagination and spirituality. Purple promotes harmony of the mind and spirit, and helps to balance thought and emotion.
If purple is your favorite color, you are probably sensitive and compassionate, the person people come to when they need a friend and listening ear. You are probably also creative and unique, choosing home décor, clothing and hobbies that are unconventional. You are probably also quite spiritual, with an appreciation for the mysteries of the universe.
Given this information, purple is a great color to use for interior design. Dark eggplant purple can look rich and elegant, especially paired with silver, gold and glass accents. Light purples can look playful and cheerful, especially paired with yellows, pinks, and lime greens. Dark purple also looks terrific paired with dark greens and oranges (think vineyards during fall harvest), and purple combined with red, magenta and bright orange is extremely energetic and fun.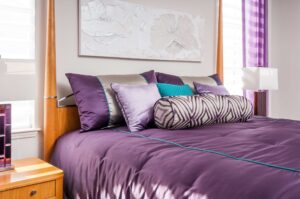 A recent design project involved a master bedroom, which the homeowner, a lovely, kind-hearted and creative person, wanted to decorate with her favorite color- purple. I designed the space using various shades of purple, accented with a vibrant teal, for contrast and energy. The drapery and cabinet hardware and finish on the bench are silver, and the walls were already painted a very light silvery color with lavender undertones.  Small touches of teal (contrast piping on the purple satin comforter, one accent pillow, the beautiful mosaic mirror, and a glass vase) provide an unexpected splash of color.
I mixed textures and materials in the space for added interest: the chair and ottoman are velvet, the bedding is shimmery satin, the bedside lamp bases are purple beveled glass. And the sheer curtain panels have a metallic threads running through the fabric for a tiny bit of bling.
The result is a beautiful and luxurious bedroom retreat, a fitting place for my purple-loving clients.