Despite the pandemic, home renovations seemed more popular than ever! As you might have expected, with people home more, things that bothered them about their homes came to the forefront. I received many calls for home offices, kitchen and bath remodels, and whole-house updating. In this column, I'd like to highlight a few of my favorite projects from 2020.
Family Friendly Home Office
We finished this project in February, right before the initial shelter-in-place. Who knew it would become so necessary to have a space like this? Ample work space for two, plus a place for the family to hang out with books or the TV, make this room the most popular in the house.
What I love about it:
The fun orange accent color in the doors and wall. I love bright, vibrant colors, and so do these clients. A home office can and should be a space you enjoy spending time in, so don't be afraid to add color!
The custom-made, super functional cabinets. These were designed for the specific needs of this family. Everything has a place to live, so clutter can be kept to a minimum.
Lighter, Brighter, Updated Kitchen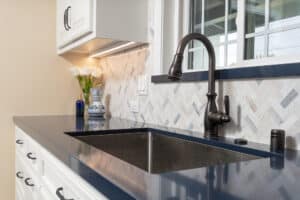 With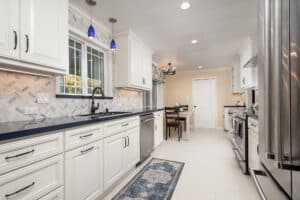 just a little bit of reconfiguring, this kitchen became more functional. More counter space and more efficient storage made a big difference. The white cabinets and updated lighting really brightened up the whole space. And the new color scheme was a hit too.
What I love about it:
The countertops! This client was willing to trust me and take a risk on the navy blue quartz countertops. Hadley, a new color from Cambria, was not one I had used before in a project, and I was dying to. I love all shades of blue, particularly navy, and, knowing that this client also liked blue, I suggested it to her. To my delight, she loved it also, and the result is really beautiful and striking. I love the contrast of the dark blue against the white cabinets, and the marble tile backsplash has blue-gray veining that really ties everything together.
Two Baths with Same Color Scheme, but Different Looks
I enjoyed getting to know this family as we worked our way through their entire house, updating paint colors, doors, furniture, lighting, flooring, the kitchen, and both baths. For their two baths, I used the same color scheme, but varied the materials, so each bath coordinates with the house, but has its own personality.
What I love about them:
The large marble-look porcelain tiles. In the master bath, the same tiles cover the entire floor, even into the curb-less shower, making the room seem larger than it is.
The silver glass subway tile on the bathtub. Tiling the tub apron is a great place to add some accent color and texture. It's an unexpected and fun element.
There were a number of other beautiful projects and lots of nice clients to work with in 2020. Definite silver linings during this crazy year. Here's to brighter days ahead for all of us in 2021.