If you've been paying attention, you have probably noticed an immensely popular design trend called "Rustic Modern" all around us. It involves combining clean, modern lines with more rustic, earthy, organic elements. What do I mean by rustic elements? Examples are reclaimed wood beams, or distressed wood floors, or chunky, hand-crafted furniture. In my mind, rustic means it's got some history to it; maybe the item is handed down from grandparents, or repurposed from an old building, or, as happens today, a brand new item is made to look old. While I love modern spaces, with their minimalistic decor and smooth, simple lines, sometimes they can appear sterile and unwelcoming. Adding rustic elements helps make modern decor look more friendly and approachable.
In my daughter's apartment, she combined a hand-me-down oak dining table with contemporary white and chrome dining chairs. A client of mine paired an burl wood coffee table, kept for sentimental reasons, with a mid-century modern sofa. The result is a room filled with warmth and personality, as well as a sense of history.
This design trend is really about contrasting textures— think rough and smooth, honed and polished, rustic and refined.
Consider these suggestions when planning your own interior design projects:
For cabinetry, keep perimeter cabinets clean-lined and modern— perhaps Shaker style, or slab-front doors and drawers— but give your island some character by making out of knotty alder, or distressed oak.


2. If your house has exposed beams, consider wrapping them in reclaimed wood planks. Keep the walls smooth and simple, but repeat the distressed look with wood floors.


3. Mix textures by topping a rustic bath vanity or kitchen island with polished, refined quartz or granite countertop. Use shiny chrome fixtures. Or, try the reverse— rustic bronze fixtures on a crisp white countertop and modern cabinetry.


4. Use a farmhouse sink in an otherwise contemporary kitchen.


5. Select unique and interesting light fixtures. There are so many to choose from nowadays; In a dining room, install a very modern fixture above a farmhouse trestle table. Or how about wall-mounted lantern lights in a contemporary living room? Note the pendant lights and barstools in the kitchen photo; the bronze iron trim and old-looking Edison light bulb, along with the reclaimed wood on the stools, provide rustic elements to an otherwise contemporary kitchen.


6. Use wood planks, or even bricks or stone, on a wall to create an amazing focal point in a room. How about installing wood plank porcelain tiles in a shower?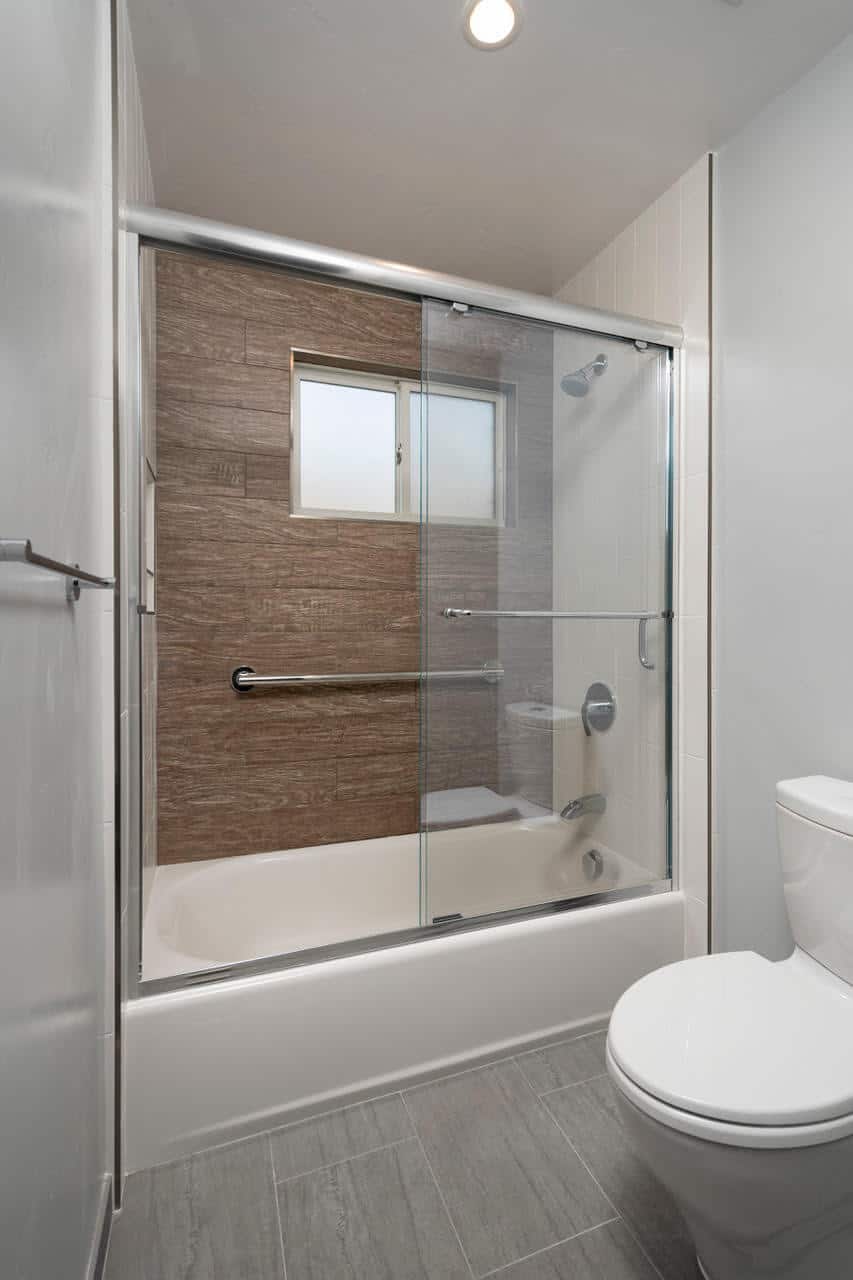 I don't see this trend leaving us anytime soon, but, in my opinion, as with all interior design, subtle and understated is much better than being hit over the head with it. In general, aim to keep things simple, by incorporating just a few rustic elements into your contemporary decor, or vice versa. Doing too much of one thing can quickly take a room from elegant to over-the-top. Adopting a "less is more" philosophy is usually your best bet.