It's hard to believe we have said goodbye to 2017 already! Why does it seem like it went by in the blink of an eye? With this first column of the new year, I thought I'd share with you some of my favorite design projects from 2017, and what I like most about them. They all came out beautifully, capturing the needs and wants of the clients, and each space has its own unique personality. Perhaps they will inspire you for your own projects in 2018.
Brown and White Kitchen
Why I love it:
The color scheme is neutral, yet has a lot of punch because go the high-contrast chocolate and white color scheme.
The countertops have some sparkle in them, which is set off beautifully under the LED lights.
The cabinet hardware is very cool, with a great mix of stainless steel and oil rubbed bronze. Perfect for this kitchen.
Blue and White Kitchen
This kitchen was a big challenge, with the different ceiling heights and step-down family room.
Why I love it:
Great use of space: we created a large pantry at the awkward, narrow area up the steps, and also expanded into the family room, creating extra storage and serving space for entertaining.
I'm definitely a "blue person" so I love the color scheme. The cabinets look so crisp and clean against the soft blue walls.
The backsplash is gorgeous— a mixture of blue and white marble tile, in a herringbone pattern. Kudos to the really talented tile installer we used on this project!
Open Concept Kitchen and Living Room
Why I love it:
Opening up the wall separating the two rooms made all the difference in the world. The original kitchen was cut off entirely from the living space— now it's a great space for the whole family to hang out together.
I love the touches of yellow to brighten up the gray and white color scheme.
I love the backsplash tile— it's a really interesting combination of stones, colors, and textures.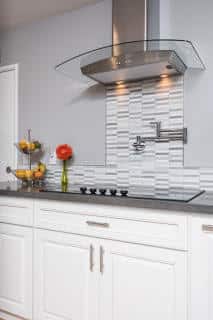 Elegant Powder Room

Why I love it:
I love the custom bow-front cabinet— it was designed especially for that tiny space, adding some much-needed storage, with lovely curves and elegant lines.
I love the touches of "bling"— note the crystal light fixture, cut glass cabinet knobs, and the slight shimmer present in the wallpaper.
Compact, Contemporary Bathroom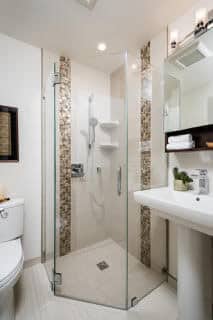 This bath was part of a larger remodel project, where I was tasked with reconfiguring an existing laundry room and powder room to include a full bath and expanded laundry/mudroom.
Why I love it:
Lots of functionality in a small space, including a walk-in shower.
Despite its size, the monochromatic color scheme, frameless glass enclosure, and plenty of new lighting makes this bath feels light and airy, and larger than it is.
The accent tile in the shower is a really striking mixture of glass and marble tiles.